About me
I am a private record collector based in Stockholm, Sweden. I collect, trade, buy and sell vinyl records. On this page I sell part of my private collection. My name is Jonas and I'm a private record collector and music lover from Stockholm, Sweden. I collect, buy, sell, and trade records. Especially rare and obscure LPs from back in the days - psych, folk, prog, pop etc. All LP's on the site is up for sale and available, unless stated 'reserved'.

If you are interested in anything, just send an e-mail to vinylstockholm@gmail.com and I'll get back to you.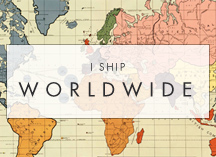 INTERNATIONAL CUSTOMERS
I ship worldwide! Please contact me for shipping costs. I carefully pack using professional mailers and stiffeners and remove the record from the sleeve. Payment with Paypal. Please contact me if there is anything you are interested in.
GRADING
I'm very conservative when it comes to grading. My highest grade is Mint-. All records are visually graded under a super strong halogen light, strict according to the Record Collectors grading system:
Mint:
The record itself is in brand new condition with no surface marks or deterioration in sound quality. The cover and any extra items such as the lyric sheet, booklet or poster are in perfect condition. Records advertised as sealed or unplayed should be mint.
Excellent:
The record shows some signs of having been played, but there is very little lessening in sound quality. The cover and packaging might have slight wear and or/ creasing.
Very Good:
The record has obviously been played many times, but displays no major deterioation in sound quality, despite noticeably surface marks and the occasional light scratch. Normal wear and tear on the cover or extra items, without any major defects, is acceptable.
Good:
The record has been played so much that the sound quality has noticeably deterioreated, perhaps with some distortion and mild scratches. The cover and contents suffer from folding, scuffing of edges, spine splits, discoloration, etc.
SÄLJ DINA SKIVOR
Jag köper gärna din skivsamling av rock, progg, psych, folk osv. Gärna större välvårdade LP-samlingar med originalskivor från 60-talet och framåt. Självklart köper jag också enstaka exemplar av rariteter till ett mycket bra pris. Jag bor på Södermalm i Stockholm och kommer gärna på ett förutsättningslöst besök och tittar på dina skivor.
Hör av dig till: vinylstockholm@gmail.com
Trades = Yes!
If you like to trade I'm looking for rare psych, folk rock, acid archives, singer/songwriters etc. Please let me know what you have.
Local pickup = yes!
If you live in Stockholm or happen to be in the neighborhood, we can always meet up for delivery.